Its a Festival Maaaaaan!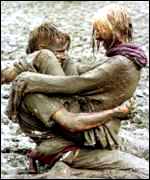 Dr.Rob and he can't really tell who it is, frolick in the autumn mist, er...no the Mud

Dr.Rob stands knee deep in a watery mix of Pimms and water. Wanting to replicate this years Glastonbury experience he attempted to bore a small overflow hole in the 3 inch diameter pipe, and now he stands naked (as requested by that pervert BB, who is, probably, as I write taking humiliating photographs that will 'accidentally' appear in the main tabloids over the next couple of days and yes Vit you can put the pastels away too! To thwart this I had deliberately smeared mud all over myself and have fashioned a number of protuberances that could resemble the male member which I have attached to my body so as to confuse the viewer) up to his kneecaps in mud.
Over in the corner of the garden a pyramid stage has been fashioned out of baco foil, some slats out of the bed frames, and an extension cable found outside the shed, where Clair has been banging away for days – quite some energy that girl! Some of the older housemates have been reminiscing about their days at Glastonbury, 'you know before it became commercialised, and Mark Bolan played an acoustic set and we all climbed over the fence or blagged our way in, maaaannn!' The other Alan has been scouring the lawn for mushrooms, whilst Gordon has been has been re-living the pleasures of the al fresco crap!
Fortunately the women have entered the spirit of it all and have all stripped off and painted themselves with astral signs and CND symbolism, Vits oil paints came in useful for this, the trouble is, in the spirit of the 1970's they've all become man hating feminists and refuse to let any of us men into the wimmin only tepee and sweat lodge.
JonnyB has been lucky with the rabbits which Mean Mike is just now barbecuing over a smouldering fire that was made out of the privet hedge and some of the wooden fencing, especially some of the bits Miss Mish had knocked off getting in and out of the garden.
Zoe has set up a vegan wholefood Belgian waffle concession in the corner, but has been a bit mean with the squirty cream, because when I asked if I could borrow it, to show the Girl something, she refused and said something slightly waloonian! Nevertheless it won't kill the spirit of the festival.
NML has promised to do a turn upon the stage, maybe something in the tradition of Janis Joplin as she seems to have spent the afternoon drinking Cillit Bang and Pimms. Her hair has certainly got into character if not her language! Vicus is playing the surly next door neighbour and has buggered off completely.
Dr. Rob wades across to the stage and sits in front of it in cross-legged expectancy. He knows that like all great gigs, soon this one will be up and soon will just be another (fond?) memory, if he can ever recover it during the sessions BB will, no doubt , have booked with one of those memory recoverers for him for when he leaves the festival, er house soon ish,
He knows that he can't ever metamorphose into Tarrra Palmer Tomklinson, who ever she is, as sadly he has never ever seen Celebrity Get Me Out of Here. Plus like Vicus he would have to bale in mid July as he too will be visiting the sanatorium for some R+R.
Dr Rob dedicates the festival and all his written contributions to:
Apparently in a clever twist that famous ex pop star and celebrity
Bob Gandalf
will be joining the house next week to spice things up a bit, what with his wayward hair, foul language and scary eyes.
Its a Rat Trap Baby and you've been CAUGHT!